How to replace diagonals of a matrix in Matlab and Octave
To replace the diagonal elements in a matrix use the function spdiags()
spdiags(v,i,m)
The first parameter is an array with the new diagonal elements.
The second parameter is the diagonal index (0 is the main diagonal)
The third parameter is the name of the array.
This function modifies the values of the i-th diagonal of the matrix.
What are the diagonals of a matrix? The main diagonal of the matrix starts at the top right and ends at the bottom left or vice versa. For example, the main diagonal of the matrix M are the elements 1, 5, 9.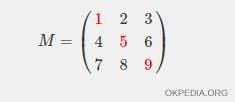 Examples
Example 1
Create a matrix
>> M=[1 2 3 ; 4 5 6 ; 7 8 9]
M =
1 2 3
4 5 6
7 8 9
To replace the elements on the main diagonal use the function spdiags()
>> spdiags([-1;-2;-3],0,M)
The output result is a new matrix with the new elements -1, -2, -3 on the main diagonal
-1 2 3
4 -2 6
7 8 -3
Example 2
To replace the elements above the main diagonal, type
>> spdiags([-1;-2],1,M)
The output result is a new matrix with the new elements -1, -2 on the diagonal above the main diagonal
1 -1 3
4 5 -2
7 8 9
https://how.okpedia.org/en/matlab/how-to-replace-diagonals-of-a-matrix-in-matlab-and-octave
---

Report us an error or send a suggestion to improve this page